Keto Pizza – Is it Right For You?
Keto Pizza – Is it Right for You?
Are you working up on being a Keto-dieter and struggling to make it to the end result? That's a regular story these days. It's so alluring to see normal people eat whatever they can reach their hands on and feel pitiful about the plate you are holding. The variety that comes with a no-dieting plan, is just too good to let go, even if it's for the sake of weight loss or anything.
Nothing is worth sacrificing if it cannot fetch you your dream. The dream of losing weight or staying fit is about living with great health habits, because you don't want to welcome diseases later in life.
The question is, for how long?
Life is not about sacrificing all the time, with no enjoyment or satisfaction. Killing your taste buds and forcing yourself to eat only from the given/recommended list of food items, is like restricting your life to an uncontrollable level.
Just look at the amount of carbohydrates you need to chuck-off your list of food.
Look at the change in your eating habits you have embraced, though it was difficult;

Look at the resisting power you need to value so much;

Look at what you need to put in there to make a perfect balance of everything required for fats in your body;
All that you put in there for a Keto-friendly diet, is not very appealing with every meal. It can be demotivating and disheartening at the same time.

The boredom takes a toll when you run out of choices and then start visualizing a beautiful buffet service with scrumptious, unhealthy servings. It becomes even more difficult when your food starts looking dull and everyday seems a drag. It's like living a day looking at the food being served to others, on the opposite tables. It's not easy, we know.
What do You Need for a Keto-Diet?

Determination to begin with! And then of course, a list with nutrition value for each and every little thing you are planning to consume.
Apart from that, making sure that you have a very healthy diet with low-carb and high-fat, comes with the plan.

Also, if you are new to Keto-diet, it's important to know everything you can before you step into this program. Check with health experts in your city or town, to know if you are fit enough to take up keto-dieting, or you need to skip the idea.
Reason being, certain health condition won't allow your body to take in more fat while cutting off carbs. Fats isn't healthy by any means, but though Keto-diet uses fat to burn fat in the body, the initial days of intake might be risky for you.
Checking with a professional and understanding your body need, is a must.
If it's been a while since you started the Keto-diet and haven't quite found out ways of making your food interesting, you're in the right place, right now!


Harboring yourself from carb-rich food and letting in only fatty ones, can doom your interest in a diet plan like that. The major reason to this disappointment is, cutting on your regular food like bread, rice, fruits, potatoes, cereals and more. After about a month or so, the same food type might look dull and monotonous.


Where you used to eat sandwiches, mashed potatoes as sides and cereals for breakfast, the limited option can slow down your enthusiasm. So, what can you add more to your list?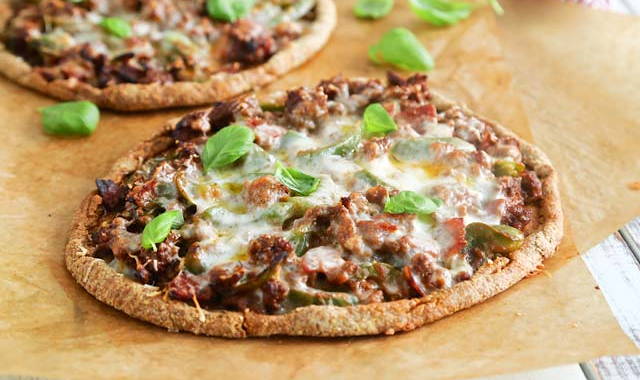 You can actually add pizza! There, we gave out the good news!
Though eating pizza is a big No-No to all Keto-dieters, there are certain ways of making a pizza that can be considered in the keto-menu. Being one of the highly consumed foods in the west and many other countries, pizza cannot be overlooked forever. Even if it is during keto-dieting, one deserves to eat pizza occasionally, but the healthy way.

Wondering what is a Keto-pizza?
Below we'll share the difference between a normal pizza and keto-pizza, elaborating the details of each.
Normal Pizza Vs Keto-Pizza

The crust of a normal pizza contains yeast, sugar and dough flour that is high in gluten, and is certainly not a low-carb friendly ingredient. Even if you plan to run for hours, it might still become difficult to get back to ketosis after eating one of those.
While we are trying to cut down on the carb, eating a normal pizza is never ever going to help the diet-plan. So, avoiding it is the only choice left for you.
On the other hand, a keto-pizza has ways of allowing you devour the taste of it, and at the same time, making sure you aren't being anti-keto on your diet. The healthy way to go about it, is either trying to make a keto-pizza at home or finding out a place that makes one.
All that you need crucially for a keto-pizza is a Gluten-free dough or a keto-friendly crust.
You might be wondering how a pizza with a gluten-free crust can make it taste better, especially thinking of the soggy and sloppy base it creates. Well, there is no way we can compete with the taste of an unhealthy fare because most of the tasty food is meant to be unhealthy; full of carbs, sweetness or oil/fat.


But here's the deal – A gluten-free dough can be made using almond and coconut flour. You can skip using butter while kneading the dough. Now you can imagine what it might taste like, with a different flavor base for your pizza, and that too, a solid and neat one! Also, this one keeps you full for quite some time even after consumption, helping you avoid excess eating later.
Is Thin Crust Pizza Keto?

Though a healthy pizza crust might sound great to you right now, but if you are expecting a base that looks like a normal pizza, you might be disappointed.

To explain further, a thin crust is much safe to opt for when compared to a thick crust pizza. Although a normal thin crust will give you only slightly less carb, it is still a safe bet because the glycemic index is lower, which helps avoid sudden spike in blood-sugar.


However, the above-mentioned gluten-free dough for a thin crust is quite a treat; considering other risks you might have to check on, for a keto-friendly option. Go rummaging in your refrigerator for healthy options you have stored for your keto-diet and throw over your pizza to make one amazing creation!
Can You Meet Keto Macros with Low-Carb Pizza?
Low-carb, more-fat in the diet isn't too complicated to list out. We need to ensure that our diet is not being compromised, solely based on low-carb.

We have a lot in this article to share on how to make a keto-friendly pizza and a variety of recipes that will guide you through making a delicious plate. However, for now here are few things you can add in your pizza to make it more-fat and less carb.
For a Healthy Vegetarian Pizza:
Add low carb vegetables as toppings, like – broccoli, zucchini, asparagus, bell peppers or mushrooms even

You can use herbs for the spread-sauce, like – thyme, oregano, basil, garlic, black pepper etc.
Meat is one thing you can always count on. Adding bacon or pepperoni over your pizza will give you a high fat benefit

While you are preparing your spread-sauce, you can add oil to it (not too much though)

Cheese looks and tastes great over pizza and you don't even have to negotiate on that. Choose a high-fat cheese to grate over your creation, like - cream cheese or cheddar
Goat cheese or parmesan cheese have good protein in them. You can use them too

If you are a non-vegetarian food, you can add more meat to the pizza
Storing Your Pizza for Later

If you are a busy person and can barely take out time to make yourself a good plate every day, here is what you can do. Whenever you have time, prepare your crust and store it!
Yes, storing this amazing thin-crust base is possible and you can use them even after 2-3 days. Take it out of the refrigerator and reheat it and top it with your choice of toppings. No hassles!
Just make a couple of more and store them if you want to eat them daily. These are healthy, so you needn't worry like you'd do for the normal pizza. Isn't that great?
Well, here is another great tip for you. Once you have them ready and stored, you can use them for pizza as well as different kinds of wraps. Unlike the thick crust base, this one is easy to wrap or fold.
What else would you want? Make a pizza, a Veg wrap or a Taco; anything you can make is possible with your home-made pizza base.
How to Make a Keto Pizza?
Now that we have talked so much about a Keto-pizza; what can go in there, what to avoid and things like that, you would want to know more about the making. It's like a dream come true for people who are dying to savor the lost taste, but in such a healthy manner.
So, we've disregarded the grain part, and chose almond flour and coconut flour over it. Few healthy tricks from here and there, will make it so much of a better pizza than you were imagining. For example: Using herbs available, low-carb veggies, high-fat cheese and meat; whatever in variety comes handy, chop and throw over your pizza.

Just be mindful of the moderate quantity you are supposed to adhere to, rest everything else is covered!
There are different ways of cooking your crust – using your oven, microwave or a pan. We'll let you know how to do both.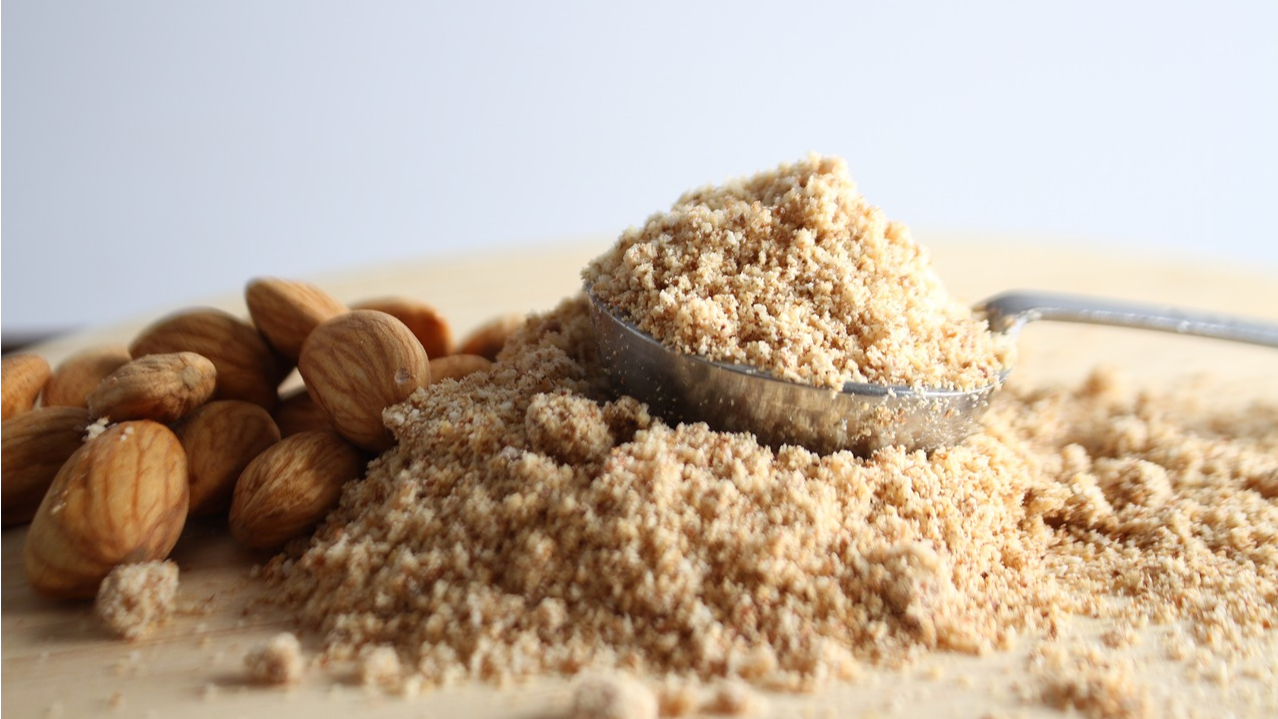 1 and half cup of whole milk mozzarella cheese

2 tbsp. of full-fat organic cheese cream

2 Eggs (large)

1/3 cup of coconut flour
¼ cup of sugar-free sauce, made of tomatoes, garlic, onion and herbs

½ cup whole milk mozzarella cheese

Desired slices of uncured pepperoni
Preheat the oven to

425°F and meanwhile use parchment paper to line with your baking sheet

Mix the mozzarella cheese and cream cheese in a bowl and heat them, occasionally stirring them for a better mixing

Gradually add the flour and the eggs into the cheese mix, while constantly mixing with a fork to avoid lumps. Then, knead for about 2 minutes using your hands, to form a soft dough

Spread the dough over the baking sheet with your hands, gently forming a round shape for the base

To make sure there are no bubbles, puncture the dough in short distance using a fork

Bake it for about 10 minutes
Take the crust and spread your home-made sugar-free sauce evenly

Add the remaining cheese over the sauce

Then place the pepperoni, covering all over

Put the pizza back in the oven till the edges of the pizza and toppings turn golden brown in color

 
---
1/3 cup of whole milk mozzarella cheese

1/8 part of garlic powder (optional)

Yolk of an egg (large)

1/3 cup of almond flour

Salt to taste (nominal)
1 and half cup of sugar-free sauce, made of tomatoes, garlic, onion and herbs

¼ cup whole milk mozzarella cheese

Desired slices of uncured pepperoni

¼ tsp. Italian seasoning or similar (as per your choice)
Preheat the Microwave in Oven setting (for baking) to

425°F

Use the top position oven rack for the baking

Meanwhile, m

ix the mozzarella cheese, cream cheese, along with garlic powder in a bowl and heat them, occasionally stirring them for a better mixing

You'll need to knead the dough using your hands for a minute and then add the egg yolk to it while still kneading. Once it is well-knead, form a ball out of the dough and then flatten it in a round shape, over a baking-sheet lined with parchment paper (to avoid sticking).
Since this one might get a little hard to flatten easily with your hands alone, you can also take help of a rolling pin, and heat it for few seconds (not more than 8-10 seconds)

Once flattened well, poke the dough with a fork in closer distance to avoid bubbles from forming

Place it in the pre-heated microwave, over the top rack and bake it till the crust is golden brown in colour (about 8-10 minutes)
Once done, take the crust out and flip it upside down.

Spread the home-made sugar-free sauce all around the crust and add the cheese over it

Place the pepperoni as you like and sprinkle the left-over cheese

Put it back in the microwave, still in oven mode and bake it for another 3-4 minutes

When the cheese starts to melt, take it out and sprinkle the Italian seasoning over the pizza
The good thing about these kinds of pizza is that it serves your purpose by giving you a nice tongue-treat, along with a healthy nutrition value, required.

With each serving, this pizza will provide you with 38-40g fat and 7-8g carbohydrates, exactly what you are looking for!
---
A Pan Pizza for Your Keto-Diet
When we say 'Pizza', it's either just out of baking from those huge wood-fire ovens, or the conventional ones available in the bakers. It's so unusual cooking a pizza on a pan!
Isn't that going on in your head right now?
Pan pizzas are quite convenient and easy to make. For people who don't have ample of time to spend on cooking, a 5 minutes' plan might sound a great deal after all. Being able to devour such tasty and healthy stuff, while spending little time and effort, is a bonus to be honest.
Pan pizzas are quite close to the traditional pizza taste. You might not even realize what you've eaten, while you happily chomp off your share of keto-friendly pizza. Moreover, there are some tips and tricks to make them crusty too (check out in the end)!
2 tbsp. of Parmesan cheese

1 tbsp. of Psyllium husk (powdered)

2 Eggs (large)

½ tbsp. of Italian seasoning

Salt to taste (nominal)

2 tbsp. Oil for frying
3 tbsp. of sugar-free sauce, made of tomatoes, garlic, onion and herbs

42g of Mozzarella cheese

1 tbsp. Basil (finely chopped)
Mix the psyllium husk, cheese, Italian seasoning and salt in a blender

Add eggs to the mixture, while still blending. Keeping this on for at least 30 seconds to create a nice consistency for the pan spread

Heat the pan over medium-high and add frying oil over it

Take a small ladle and pour the mixture over the pan and use the back of your ladle to gently spread it into a round shape

As the edge of the crust start looking a bit brown, flip it upside down and cook for another 30-40 seconds

Once done, take it off the pan and place it on a flat plate. Let the temperature come down

Spread your home-made sugar-free sauce over the crust and garnish it with chopped basil over it
(Tip – If you like your crust a little harder and not semi-soft, you can take it off the pan once done and broil it in the over for few more seconds)
With each serving, this pizza will provide you with 35-40g fat and 3-4g carbohydrates. Isn't that amazing?

We all know deep down, that Keto can be a tough plan to carry on for a long time. Running short of variation in food, getting tempted while sitting with friends or family who eat everything else than healthy and coming across channels on TV that showcase amazing food joints and restaurants, are common challenges Keto-dieters face while on the track.
However, an air of relief is felt when you have options that resemble the good-looking foods and can compensate the hunger for a yearned taste. These amazing recipes and other more, that people have shared are so much help for dieters who are trying hard to make their journey successful.
Making a healthy keto-pizza is not just limited to gluten-free flour like almond and coconut, but cauliflower pizzas too are a great pick from among the healthy keto-friendly options.
Having said that, there is always a check required to make sure you are not over doing it.
Eating in moderate quantities (that we keep repeating) is essential. You cannot go overboard with your portions and console yourself saying, I'm eating healthy anyway. No, eating healthy also includes eating in correct portions.
Be mindful of all that is on your plate and always, always refer your nutrition value chart. It's a decision you made when you chose a difficult plan for weight-loss and staying fit. Stick around to that and make the most of what you have, without regretting later.
JOIN THE KHC CLUB FOR KETO ARTICLES AND RECIPES
Thanks For Signing Up! We'll Be In Touch :)
This field is required
This field is required